Yet more evidence has recently been published to confirm, despite the surge in online shopping, catalogues too are enjoying a renaissance. We're biased, of course, as that's one of our key areas of expertise, but don't take our word for it.
First up was the article in The Guardian late last year informing readers that, with more shops closed, brands were turning to catalogues to reach consumers stuck at home and, potentially, with more time on their hands.
The article gives examples from retailers including clothing brand Jigsaw with the boss saying "It's a brilliant way of keeping a brand front of mind during lockdown.
On average, people will spend three or six minutes on a website but a catalogue or direct mail can lie on a coffee table for a month to six weeks. If there's something you quite liked you can keep going back."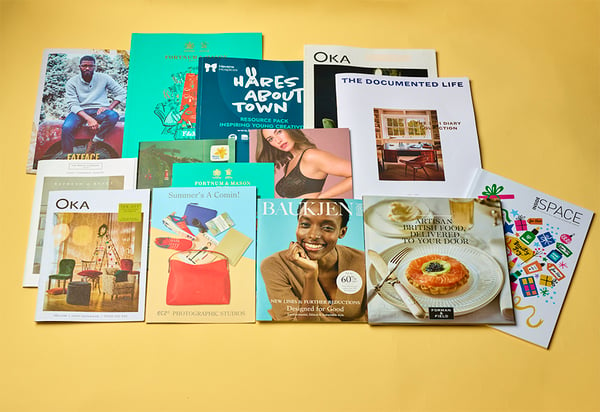 Another premium homewares brand, Cox & Cox, is quoted as saying "A far lower proportion of people open an email or click on an online ad than pick up and keep a catalogue. By combining a variety of channels you can not only reinforce your message but also increase your chances of catching people at just the right time."
Next came evidence reported by Direct Commerce Magazine at the start of February that catalogues are making a steady revival and confirming, yet again, that they stay in the home and are not exclusive to an older generation.
The writer, vastly experienced industry insider and Editor, Jane Revell-Higgins, reports that "Many D2C retailers acknowledge that their response rates have spiralled, that their most profitable customers are recruited from print marketing, and that demand for products featured in catalogues and off the page advertising keeps growing."You can read the full article by signing up for a free 30-day trial of the website.
Finally, the latest positive news was reported by Decision Marketing that mail order catalogues enjoyed a Covid 'bounce' of almost 350% last year despite the continued rise of ecommerce.
The article quotes our own client, Nigel Swabey, the man behind the Scotts & Co stable of brands as saying that "the response of personally addressed advertising mail is now greater than ever".
He continues: "Consumers are going to be spending more time at home in future. With so many having discovered the sheer convenience of direct home shopping over the past six months, the response to personally-addressed advertising mail is now greater than ever."
Even specialist home and garden magazines have enjoyed an upturn in circulation figures as reported by the latest Audit Bureau of Circulation (ABC) consumer magazine reports.
With more families at home with time on their hands, fewer leaflets are going straight in the bin. According to research by Royal Mail, 88% of people surveyed said they paid as much or more attention to mail during lockdown.
And with a spending boom reported to be happening as Lockdown lifts now is the time to add print to your marketing mix.
If you want some advice on exploring this lucrative avenue, we have experience in producing printed matter from design to door drop so do give us a call on 01702 541311 or drop us an email.